Wix has grown in popularity in recent years, thanks in part to pricey ad campaigns starring Heidi Klum, Jason Statham, and Gal Gadot, better known as Wonder Woman. But first, let's go through the fundamentals. Wix is now the most prominent player in the internet site-building landscape, hosting more than a hundred and sixty million websites.
Review of Wix: Summary
For small websites, Wix has a fantastic drag-and-drop site builder. There are hundreds of free templates to choose from. Wix provides web hosting and domain registrations on its own (free and paid). The App Market makes it simple to add extra features like photo galleries and e-commerce.
Is Wix a good fit for your website?
Wix has a lot of features and is very easy to use, yet it does not require its customers to have any coding, site-building, or technical abilities. This is one of the reasons why we can highly recommend this website builder to anyone.
This is a fantastic platform for individuals and business owners that want complete control over the look and feel of their website. They won't need to engage a web administrator or a web designer in this case. If they want to create an interactive, user-friendly, and attractive website, Wix is one of the best website builders available.
The drag and drop function is one tool that will undoubtedly be simple to use for beginners. Making a Wix website is also very affordable, takes very little time, and you can have your first version up and running in less than a day. After that, you have the choice to improve it.
Before deciding to utilize Wix, feel free to look at their templates and website samples. You'll see that they're well-dressed and attractive. The websites were made by amateur web designers, which is quite astounding.
Designers, hotels, small enterprises, restaurants, photographers, musicians, and others will benefit from Wix. These are just a few of the niches for which they offer websites. This website builder has created tools and designs for a wide range of industries. Most other website designers haven't considered developing solutions to assist hotels or musicians in growing their companies.
Wix is always innovating, adding sophisticated features, changing designs, and making their website builder simple and pleasant for their consumers.
Who Is Wix Appropriate For?
Small companies, restaurants, internet stores, and artists such as singers and photographers have all benefited from its visually attractive designs. They're mobile-friendly, and you can spice them up with one of the Wix App Market's many apps. Wix is similar to a prefabricated house in that the basic construction is already in place and cannot be changed. You can, however, paint the walls to your desire (select a theme) and furnish the room with whatever furniture you choose (photo galleries and other applications)
Wix templates and themes
The majority of Wix's templates are available for free. This is fantastic news for those who do not intend to purchase a premium subscription plan. The availability of Blank Templates is a wonderful feature. These are essentially empty layouts with no modules, no color scheme, and no other elements. This feature is ideal for people who wish to start from the ground up and develop a fully customised website.
Even the free templates will give you the impression that they were designed by professionals. The difference in quality between free and premium themes is minor. This lets both free and paid users feel appreciated while also ensuring that they get their money's worth. One obvious disadvantage is that once you've chosen a template, you can't change it.

Wix Plans & Pricing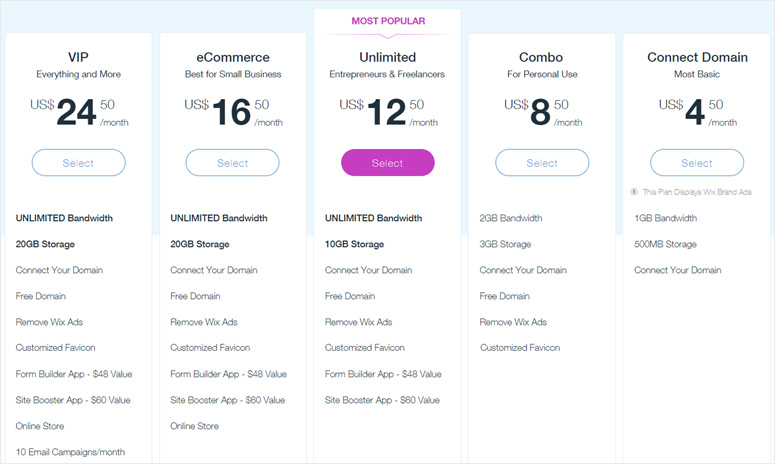 Wix is available for free for as long as you wish. If you want professional features like your own local phone number or ecommerce, you'll need to choose from one of their top-tier plans, which range from "Combo" to "Business VIP." The cheapest ad-free service, which includes a personalized area call, costs $8 per month.
Pricing for Wix
$0 Free
With Wix advertisements, you can make a free website. Your own domain name is not included.
$4.50 Domain Connect
Connect your Wix site to your own domain. Wix advertising will continue to appear on your site. (Not all countries have this plan.)
$8.50 Combo
Ideal for professional websites with a smaller audience. There are no advertisements and lots of storage.
$12.50 Unlimited
If you require a lot of web space, this is the package for you (up to 10 GB included).
Business & eCommerce $24.50
Creating an online store or using paid apps like Wix Bookings or Wix Hotels are the best options. Higher-level plans (VIP and Unlimited) are also available.
What we liked about it:
You can move anything anywhere with this simple component that has no restrictions.
SEO strategies that are extraordinary
Exceptional application market (more than 250 applications)
A comprehensive summary of the novel's highlights
For their editorial management, they have two iOS and Android apps.
Wix Website Builder Review Conclusion :
Wix appears to be the clear winner when compared to the other major online website development services. That isn't to say that there aren't places where they could improve. Most services, such as Wix, offer unlimited bandwidth with their higher-priced plans. We're baffled as to why a package that costs more than the Unlimited plan only comes with 10GB of bandwidth. A lower-priced bundle with less capabilities would be a better choice for websites with a lot of media on them (which quickly consumes bandwidth).
The (forum) support is another area that should be addressed. As previously said, it appears that some of the answers are templates that incorporate the names of the users. Their phone and live chat support, on the other hand, is quick and helpful.
We didn't felt "pushed" to switch to a premium plan at any point, unlike some other large providers similar to Wix. The bulk of themes, SEO optimization, a superb WYSWIG editor, and an app store are all available for free. This is a significant benefit for users who only want to experiment with the tool and build a modest website with no intention of monetizing it.
The fact that there are four different premium plans available makes it easy for people to take the next step. It costs only $4 per month to become a paying user at the lowest level. This has no impact on your budget, and when your website becomes large enough, upgrading to the next level isn't prohibitively expensive. Aside from that, after purchasing the Combo package, you will receive fantastic discounts on Wix coupons and other services.
Last Thoughts
This is a great option for smaller sites (under 30 pages) that need to look professional. You could wonder why not for larger tasks as well. Unfortunately, because there is just one, the navigation menu does not fit into complex page architectures. Weebly is best suited for huge websites. Wix offers the widest range of pre-made designs for any sector. It will be more difficult to revamp your website because you won't be able to change topics once you've made your original decision (you will have to redesign it manually or start over). On the plus side, Wix's greatest asset is flexibility, which is unrivaled within the chosen area. You may easily and affordably add a shopping cart to your website. To learn more, see our Wix Ecommerce Review. In many ways, what Wix has produced here is astounding, with an almost unbelievable rate of development. To discover if this is the correct solution for you, try the free plan first before upgrading to a paid plan